We celebrating
40 years
in business
Acquisition of EMDD Universal Now Complete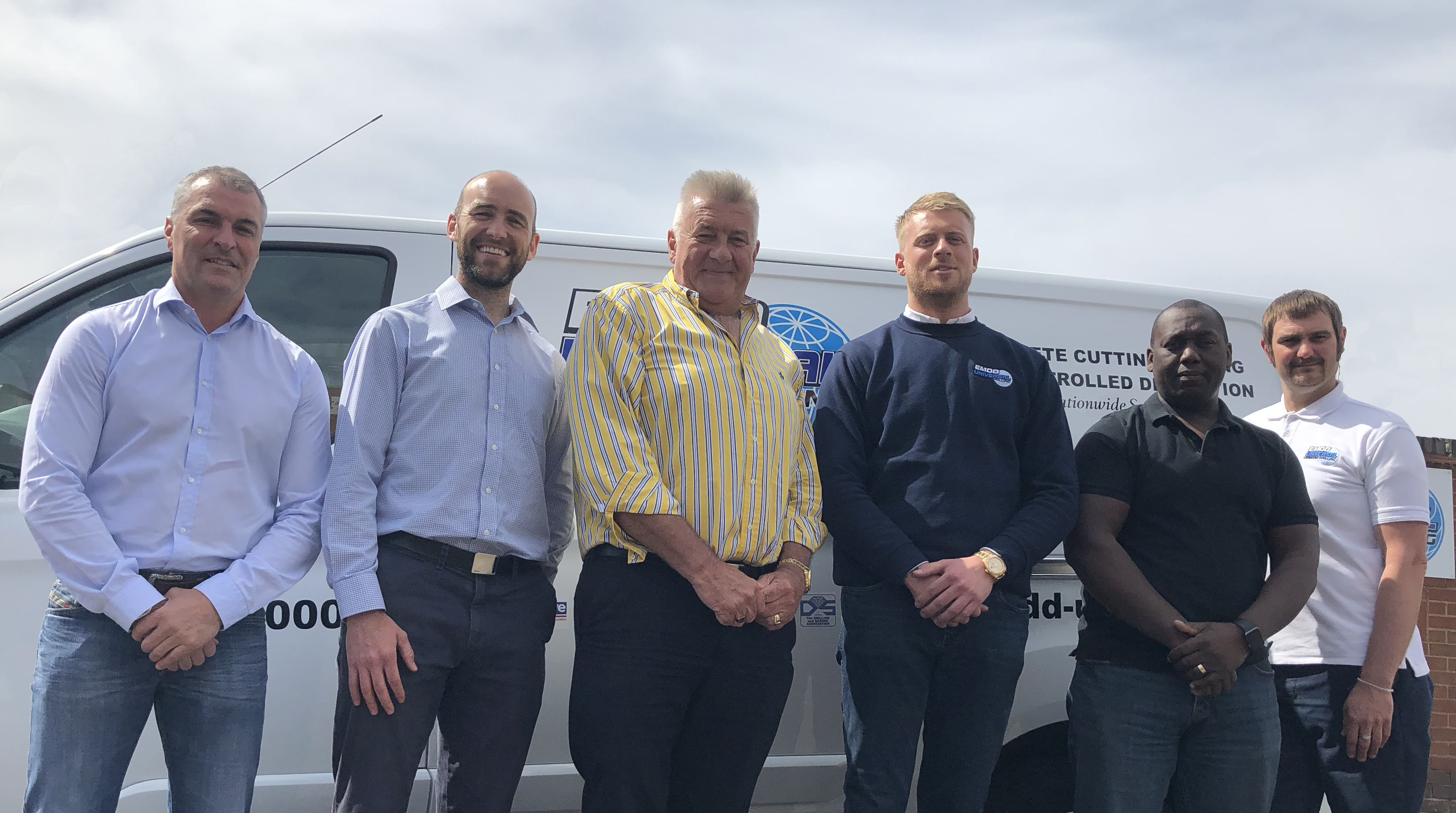 This May has seen Dave Swanwick, the Managing Director of East Midlands Diamond Drilling, complete the remarkable achievement of paying the last instalment to complete the acquisition of what is one of the largest Diamond Drilling Company in the Midlands.
After 4 years of crippling monthly payments in some of the most difficult times, particularly with the recent demise of Carillion, Dave and his hand picked management team of Ron Rerrie, Paul Jarman, Max Ulanowsky, Tom Gould and Chris Swanwick have had to take EMDD to new levels to achieve this, whilst keeping the cap on spending and keeping up with continuous new regulation in an ever competitive market.
The first thing they did was change the name of the Company from East Midlands Diamond Drilling to EMDD/Universal in an effort to remove the restrictions that the name suggested.
Dave said 'Clients would look at our name and although we did all their work locally, they would not even give us the chance to price work outside of the Midlands. Now we work all over the country and have recently completed major contracts as far afield as London, Norwich, Manchester, Newcastle and at present we are engaged on a major Diamond Floor Sawing job in Aberdeen.'
EMDD Universal has also had a lot of success in the refurbishment sector, with major works on shopping centers in Nottingham, Sheffield, Milton Keynes and Uxbridge. The have also expanded into deconstruction, Dave said 'Historically we have always done anything to do with the careful cutting and removal of concrete, but we are fast gaining a reputation for the careful removal of other materials, including brick, glass and timber. This is something we are calling deconstruction, not demolition, and with the assistance of one of our suppliers we have even developed a successful cold cutting process for steelwork.'
With all this additional work EMDD/Universal has had to increase its workforce, but rather than advertising for qualified operatives, they take on untrained personnel, the only stipulation being they can drive. They then enrole them into a 2 year apprenticeship in Diamond Drilling and Sawing.
The learning doesn't stop with the apprenticeship though, one of the first apprentices the company first took on 4 years ago, to work on the Victoria Centre Contract, has just completed his SSSTS, a site supervisors course.
EMDD Universal offer and encourage their operatives to do a whole series of courses including Working In Confined Spaces, Working At Heights, Manual Handling and First Aid to name just a few as well as specialist plant courses.
Dave said 'We have staff that started with us as operatives, who have worked through the various levels of NVQ's and are now Site Managers and Contracts Directors. Investment in both our staff and machinery is what keeps the company at the forefront of everything we do. We are very much looking forward to what the future holds in store for us.'
Picture shows from left to right: Tom Gould, Max Ulanowsky, Dave Swanwick, Chris Swanwick, Ron Rerrie, Paul Jarman.