We celebrating
40 years
in business
Good Start to The Year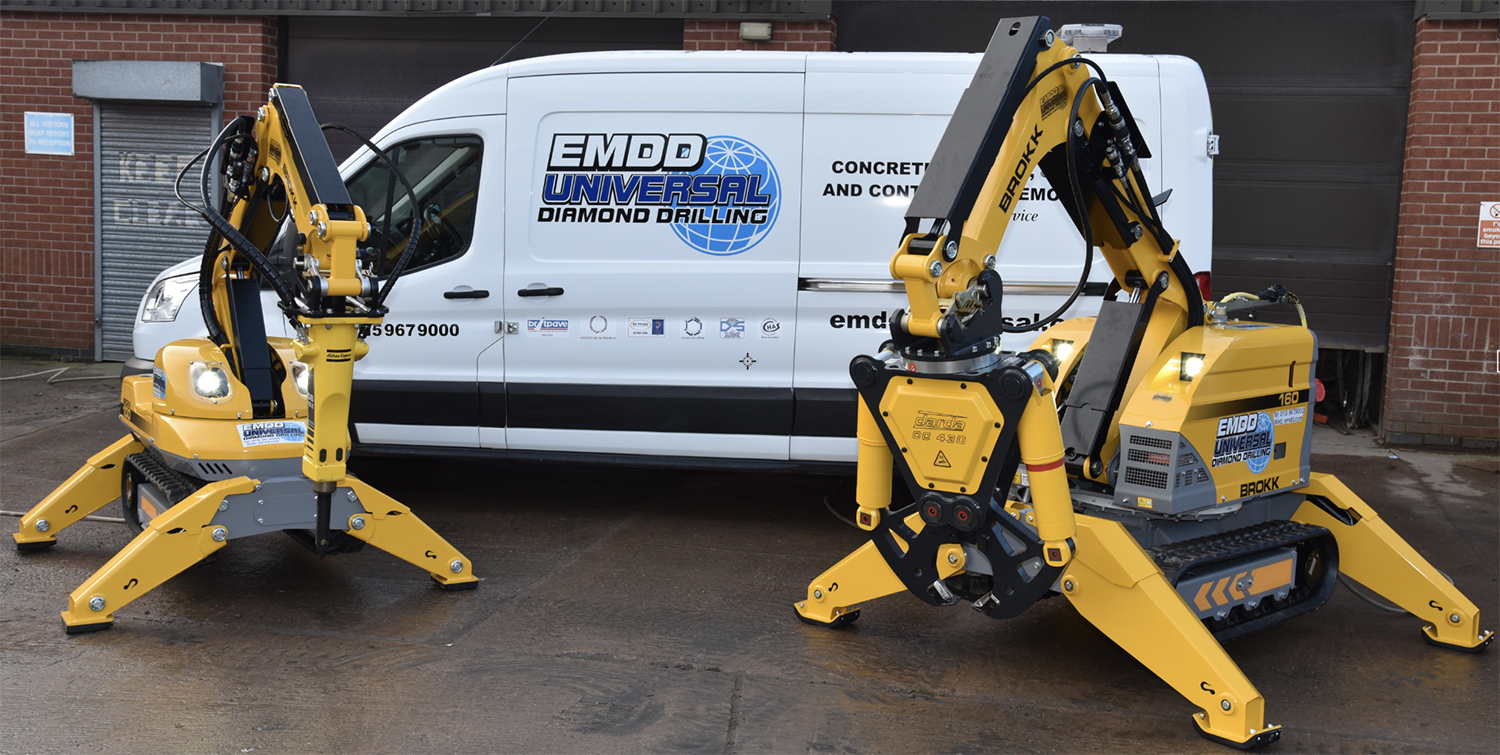 EMDD/UNIVERSAL have started 2016 by investing over £300,000 in their future, with the purchase of two new long wheel based Transit vans and two new remote controlled Brokk demolition machines.
The Transit vans are custom fitted with racking and loading ramps to allow operatives easy access to load and unload large items of plant, such as heavy duty diamond drilling equipment,  floor saws  and a whole selection of specialist demolition and deconstruction equipment.
The Brokk machines are remote controlled demolition machines from Sweden, the smaller one, the Brokk 100 weighs less than one tonne and due to a series of hydraulic intensifiers has the breaking/crushing capabilities of a 4 tonne machine. The larger one, the Brokk 160 which weighs a little over a tonne and a half, has the breaking/crushing capabilities of an 8 tonne machine.
Dave Swanwick, Managing Director of EMDD/ UNIVERSAL says; 'This is a major investment for the company and increases our fleet of vehicles to 27 and number of remote controlled demolition machines to 7, but in 2016 we have the biggest order book we have had in the 34 year history of the company, so as well as vehicles and machines we will be looking to take on new staff in 2016, many of which will be apprentices. I am convinced that one of the reasons for our success is that we continue to reinvest, it is important in our industry to keep up to date with the latest, most advanced machines on the market.'
While delivering the new machines to EMDD/UNIVERSAL'S head office in Top Valley, Nottingham, Stuart Morton, Brokk UK Sales Manager said 'Brokk Uk have been supplying radio controlled demolition machines to EMDD/UNIVERSAL for over fifteen years now, their commitment within this sector is a tribute to the company's evolution of continued investment in cutting edge technology. The new machinery will enable them to accomplish seemingly impossible demolition jobs in a safer, more controlled manor. The latest delivery of Brokk machinery, a Brokk 100 and a Brokk 160, are both supplied with the latest Darada concrete crusher the CC340 and the CC430, which is the first of its type in the UK.'
Dave Swanwick went on to add; 'So much these days is down to Health and Safety, and these demolition machines are electric, so no fumes,  they can be operated remotely from up to 30 meters away and can break, crush or dig and because of the hydraulic intensifiers their production is that of a machine four times as big and heavy, so are perfect for inside work with weight and space limitations, such as the Victoria Centre and Radcliffe On Soar Power Station projects, which we have recently completed.'